W's Torpedo 900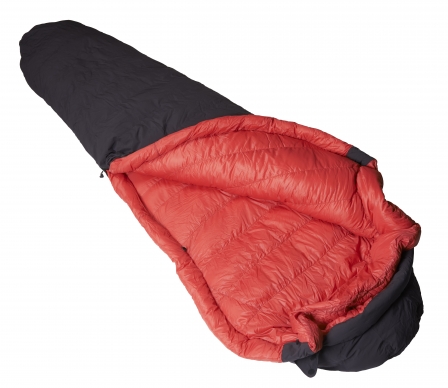 The Torpedo 900 has been developed for Himalayan climbing over 7000 metres and is also suitable for alpine-style routes on 8000'ers. Filled with extremely high quality 850 cu.in. (EU rating) Polish down, and protected with a waterproof shell, the 900 can easily be used in open bivouacs or single-skin tents. Like the 500 and 700, the Torpedo 900 is available in three lengths and two widths. Look at our sleeping bag selection chart for guidelines.
The Torpedo 900 can be upgraded with the addition of one of new Radioactive range of sleeping bag liners (which can also be used as stand-alone ultralight bags) which will be available from Spring 2015.
Waterproof, breathable shell
Water-resistant zip
Vertical V-tube baffles over chest
Slant box wall baffles on underside and lower top
Double zip baffle
V-tube side baffle
Adjustable neck baffle
48 individual baffles in total
Supplied with storage bag and stuff sack
Weight:
1590 g
Fill:
850 g of 850 fillpower (EU) Polish goose down (Medium)
Shell:
2-layer eVent®, 80g/m², 40d nylon face
Lining:
33 g/m², 15d Pertex Quantum®, soft-touch nylon
Baffles:
Vertical V-tube over chest
Slant box wall on underside and lower top
Single zip baffle
Simple side wall
Adjustable neck baffle
48 individual baffles in total (medium)
Zip:
158 cm highly water-resistant Riri Aquazip
Packed size:
25 cm x 40 cm Ø
Down is a very resilient insulating material and with basic care, any down sleeping bag should last you a very long time (if not your entire active climbing life).
There are two simple rules to ensure longevity:
1. Always store your sleeping bag uncompressed in a dry, airy place
2. Try to keep it as clean as possible to minimize washing (this ultimately damages the down).
NEVER machine wash an eVent-shelled down sleeping bag. We highly recommend you hand wash your down sleeping bag or, alternatively, use a professional service. You can download washing instructions here.
In a shop, sleeping bags appear to be one of the easiest products to buy. Whilst they come in a variety of colours and fabrics, and obviously range from thick to thin depending on how warm you want to be, their design and shape tell you little. The insulation – and at crux we only talk about down – is the part that does the job of keeping you warm, and this is virtually impossible to assess by touching or looking at it. Additionally, from a design point of view sleeping bags offer very little room for creativity (even cosmetically) and hence, more than anything else we manufacture, sleeping bags are very much a product of their specification. The key criteria – warmth and weight – are completely dependent upon the insulation, fabrics and components used. Consequently, our knowledge base has a more extensive range of subjects and information than any other group of products.
Choosing a sleeping bag – a qualitative approach
Temperature ratings – understand what they mean
Sleeping bag design – an overview of generic design and construction
Sleeping bag care and maintenance – essential reading
Hydrophobic down – what it is and why we don't use it
Goose down – sources, quality, and measurement
eVent fabric – why it is the best fabric for a waterproof bag
Riri zips – some background information