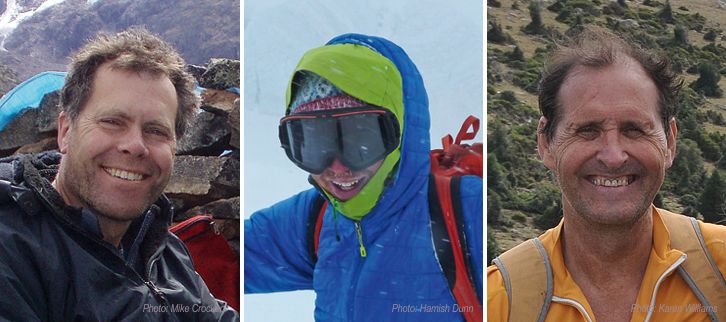 The Crux Expedition Award panel
The members of the Award panel are Carol McDermott (founder, crux), Stephen Reid (owner, Needlesports) and Tom Ripley (Aspirant guide, crux sales rep).
Stephen Reid (left) is the owner of Needle Sports in Keswick. He has been on expeditions to the Stauning Alps in Greenland, Tibet, Peru and the Karakorum. He also has climbed extensively throughout the UK in summer and winter, putting up numerous new routes; as well as climbing every route in Hard Rock along the way. Stephen has also been involved in the screening of MEF applications in the past.
Tom Ripley (centre) is Crux's part time sales representative. He is currently based in North Wales and is also training to become a British Mountain Guide. He has been on expeditions to the Karakorum, Peru, Alaska, Kenya and Patagonia. His best climb to date is an ascent of Denali's Cassin Ridge.
Before founding crux, Carol (right) actually undertook a bit of mountaineering himself, and his experiences stretched from New Zealand's Southern Alps to the Andes, the Himalaya, the Caucasus, the Karakorum, Patagonia and the European Alps. His most memorable ascents include Shivling and Bhagarathi III in the Gangotri (India), Yerupaja (Cordillera Huayhuash, Peru), Ama Dablam (solo, Khumbu region of Nepal) and high, but unsuccessful, attempts on Latok 1's still unclimbed North Ridge (Karakorum) and the Casarotto Pillar on Fitzroy (Patagonia).