RK50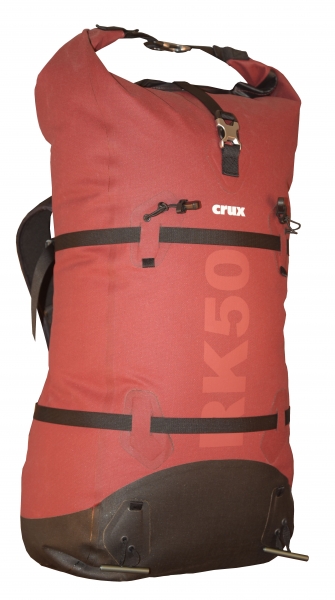 Finally out, the all-new RK50 is our expedition-size roll-top. To manage the extra load-carrying capacity, the RK50 comes with two tubular titanium frame stays as standard, plus a removable hip-belt whose design is stolen from the venerable AK range. For those who love roll-top style bags, the RK50 is one of the largest models available, and probably the most confortable on the market.
The RK50 is available in two back lengths: Regular and Long.
More images coming soon.
Accessory pocket at rear
Removable webbing front/side side compression system
Oversized back haul loop – easy to grab and clip
Top compression strap
Two ice-axe holders
Welded construction throughout - completely waterproof
Removable padded hip-belt
Two 7.00 mm titanium frame-stays
Capacity
50 litres
Weight
1195 g
Fabric
40% Kevlar / 60 % Cordura, 240 g/m²
Frame
Two 7.00 mm tubular titanium stays (removable)
Sizes

R (regular)
L (long)
If you break any buckles or your frame stays (it does happen), then don't panic. We have replacement parts for nearly everything. Please go to the Rucksack Spares area of our online shop.
Crux rucksacks don't often need mending, but they are not completely immune to abuse. Should your sack ever need repair, then please click here for details of our recommended repair agents.
The RK50 will be available in summer 2016.
For more information about our backpacks, please click on the following links below.
Sizing and fitting of crux backpacks
The physics of backpack design
Using the features of an AK pack