3G AK70 (W)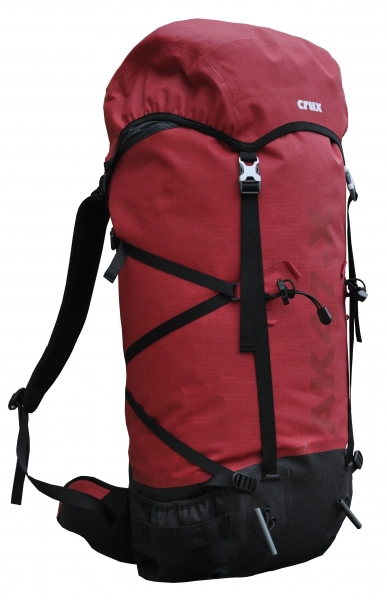 The AK70 is a large expedition pack suitable for climbs in the Greater Ranges. It can manage a heavy payload of 28–35 kgs in tolerable comfort (we are not going to pretend that this is ever an enjoyable amount to carry), but still remains light enough to be used for a summit push. Its large volume is ideal for stuffing bulky, frozen gear into, whilst semi brain-dead from oxygen deprivation and encumbered with big clumsy mitts. As well as being remarkably light for such a capacious pack, the AK70 is substantial enough to impart a feeling of solidity and security, to the point that some people have actually tried bivouacking in one(OK, they were desperate – it's not really big enough).
The AK70 is the first of the 2016 3G packs to employ a roll-top closure system under the hood, replacing the draw-cord system found on the 2015 styles. Uniquely within the AK range, the AK70 also features a dual-wrap hip belt. Although not heavily padded or particularly large, this transfers the load onto the hips very effectively and enables heavy loads to be carried with some small modicum of comfort.
The AK70 is available in Size 1 for women.
Removable floating lid – for more versatile load options
Roll-top closure system for a completely waterproof main compartment
Side compression straps – quick and easy to fit or remove
Oversized back haul loop – easy to grab and clip
External lid pocket with welded seams
Top compression strap
40 mm webbing waistbelt with low-profile full-sized hip-fins
Two ice-axe holders
Stretch wand pockets
Capacity
70 + 7 litres
Weight
1500 g
Fabric
40% Kevlar / 60 % Cordura, 240 g/m²
Frame
7.00 mm tubular titanium, full frame (removable)
Sizes

1 (women's/short)
2 (medium)
3 (long)
If you break any buckles or your frame (it does happen), then don't panic. We have replacement parts for nearly everything. Click here for Rucksack Spares.
Crux rucksacks don't often need mending, but they are not completely immune to abuse. Should your sack ever need repair, click here for details of our recommended repair agents.
The AK70 is available in size 1 for women.
For more information about our backpacks, please click on the following links below.
Sizing and fitting of crux backpacks
The physics of backpack design
Using the features of an AK pack