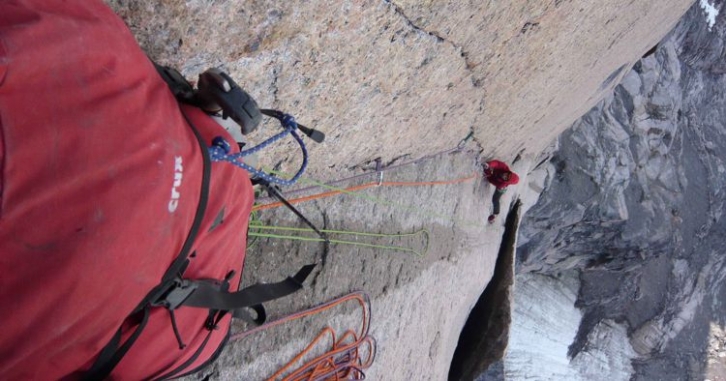 Crux packs. The benchmark.
The AK backpacks have been part of the crux brand from the start (in 2002, along with the X2 tent). In a very competitive market place, crowded with many big and established names, it was very difficult for a small, upstart company to get noticed. The AK50 nonetheless made heads turn. What was unique about it?
What caught the eye was the pack's virtually featureless, brutally minimalist exterior design. (Actually, design is hardly the word – lack of design would be more appropriate.) Amidst eight cavernous exhibition halls, each one full of products laden with as many features you could cram on for the price, the austere, uncompromising AK packs were… well, different. And the feedback? "They will never sell."
But of course they did – and to the people who mattered. Climbers. Mountaineers. Individuals who wanted simple, rugged packs, and who appreciated the AK series' clean lines and lack of clutter. This wasn't about aesthetics; it was all to do with pure practicality. But a product doesn't earn its reputation by its looks.
Visually, the AK packs exude simplicity (good) and toughness (good). But on picking them up, you would be forgiven for thinking they were suspiciously light. Lighter than sacks made out of obviously lightweight, flimsy fabrics. In the case of the AK sacks, light equals extra good. Especially as it's not at the expense of durability and reliability.
Inspect the AK packs closely, and you will see that they are made out of virtually a single piece of fabric – stitching is minimal. This means they are much more water-resistant as well. Look inside, and you'll find a frame of lightweight tubular aluminium. At under 3 ounces, it is less than a quarter of the weight of standard backpack frames (both in 2002 and today), and a completely innovative use of a common material (tent pole alloy).
The haul loop is massively over-sized, making it easier to grab or clip (and much harder to drop). Nor can it pull out – the top-tension straps and haul loop are one piece of webbing that goes inside the bag and loops around the frame. Failsafe.
The ice-axe loops are simple and functional. The side-compression straps are generously sized (read: actually useful), and any excess length tucks away easily in the wand pockets. Alternatively, you can remove the whole assembly in about 3 seconds if you don't want them (and rethread them in about 10 seconds when you do). Even the 4 mm climbing cord, used to adjust the top collar but also perfect for an emergency rap anchor, is another example of making each feature and/or component having more than one purpose.
It is the unrelenting simplicity of the AK packs, the thought-through functionality of their few features, their no-nonsense, tough hide, and their "you forget it's there" low weight that make them the product to be compared with. At every trade show, we see the sponsored athletes, retailers, and sales reps from competitor brands, drag their designers along to the crux stand to show them a real climbing pack.
And while the AK sacks have remained virtually unchanged in the last decade, we witness major brands launching new designs again and again. Twelve years on, our AK sacks remain the benchmark.